New Jersey developer eyes 80 acres for eastern Henrico project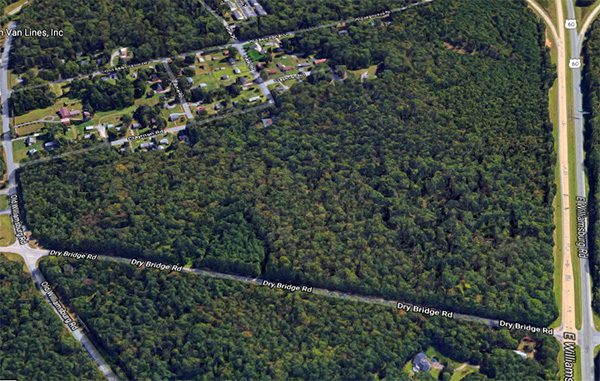 A developer from New Jersey is making a play in eastern Henrico, with his eye on a swath of bank-owned property once held by a now-defunct real estate investment firm.
Salvatore Cangiano has submitted preliminary plans with the county to rezone and develop 80 acres formerly held by The Tetra Cos. at Dry Bridge and East Williamsburg roads near Interstate 295.
Dubbed Drybridge Commons, plans call for the site to accommodate 43 single-family residences, 230 townhomes, 13 acres of commercial development that includes retail, office space and a hotel, and a fast-casual restaurant.
The developer is under contract to purchase the land from Essex Bank, said Andrew Condlin, an attorney with Roth Jackson who is representing the seller.
Condlin would not discuss specifics about the pending deal, including a purchase price for the property. The land was most recently assessed by the county at $3.1 million. The bank took hold of the land through foreclosure in 2011.
Cangiano also is seeking a provisional use permit for a 24-hour convenience store and gas station at the intersection of Dry Bridge and East Williamsburg roads.
Henrico County planning commissioners will hear the rezoning request at their June 14 meeting. A meeting for nearby homeowners outlining the project is scheduled for tonight at Sandston Elementary School at 6:30 p.m.
David Jordan, Cangiano's Virginia project manager overseeing the proposed development, said much of the planning is in its infancy and that neither homebuilders nor commercial tenants have yet been signed on. The group is working to get utilities to the site, he said.
"It really is a nice piece property in a nice part of town," Jordan said. "We just felt the existing (approved site plan) is not the best and correct use for this site, and what we're proposing will be a better fit for such a location and site."
Drybridge Commons would bring new life to land that was left in a holding pattern after Tetra Cos.' downfall in 2010.
The company, founded in Virginia Beach in 2005, proposed a massive retail development for the site with a mix of retailers and several restaurant pads. The firm also had eyed a three-story senior housing development, along with a cluster of 23 single-family homes.
Tetra's site plan and rezoning from agricultural uses was approved by the county Board of Supervisors in 2007. It would have added another large-scale retail center to rival the White Oak Village shopping center on Laburnum Avenue, which was coming together at the time.
Tetra funded its projects through a series of investment funds that raised as much as $50 million from investors and $100 million in bank debt at its peak in the early 2000s to construct a series of mixed-use development across the Southeast.
During its run in the Richmond region, it completed the Brandyhill Apartments in Mechanicsville and Oakland Chase apartments in Eastern Henrico.
It also made headlines for several questionable ventures, including plans to construct Audubon Village – a proposed commercial development on a 60-acre wetland at 5000 Audubon Place.
When projects began to stall and Tetra's promises of investment returns fell short, state and federal officials launched an investigation into the firm, after which it closed around 2010.
Foreclosures of Tetra's land ensued, including the 80-acre parcel now being re-primed for development.
Jordan said the firm would like to start construction on the development next summer, adding that Drybridge Commons would be Cangiano's first Henrico County project.
Cangiano previously owned the property that has since become Magnolia Green, the massive golf course-anchored Chesterfield development, where he still owns thousands of acres of wooded land. His company also has rezoned 11 acres near Genito Road and Price Club Boulevard for the construction of 73 townhomes; and it is preparing to carve out 311 single-family lots on 189 acres for the Cold Creek subdivision at 17500 Duval Road.
Driven by the prospect of continued development in the area, Jordan said, Cangiano was drawn to its proximity to Richmond International Airport, major highways and White Oak Technology Park, where Facebook is constructing a $1 billion data center.
"When you think about options for these workers to live and dine, there really are not a lot of options," Jordan said. "Given where this site is located, we think what we have proposed is the best use of the site and is going to be a good draw to this part of town."
Original Article – https://richmondbizsense.com/2018/05/30/new-jersey-developer-eyes-80-acres-eastern-henrico-project/