Original Article: https://www.realtor.com/advice/home-improvement/privacy-fence-costs-facts/
By: Ana Durrani
Aprivacy fence might not be at the top of the to-do list for most homeowners, but perhaps it should be.
Privacy fences can frame your yard, keep kids and pets in, give your home more security, and block the peering eyes of your nosy neighbors.
"We've all heard the saying that good fences make good neighbors, and there's plenty of truth to that," says Erin Schanen, a gardening partner with Troy-Bilt, a master gardener volunteer, and creator of The Impatient Gardener blog and YouTube channel.
In addition to the protection a privacy fence brings, it can also help to define your outdoor living space. Many homeowners opt for a privacy fence made of sleek wood that surrounds their yard, and some might even choose to build a pergola on top to delineate a seating area.
The grass is always greener on the other side of the fence, so before you build a privacy barrier, consider the following facts.
Types of privacy fences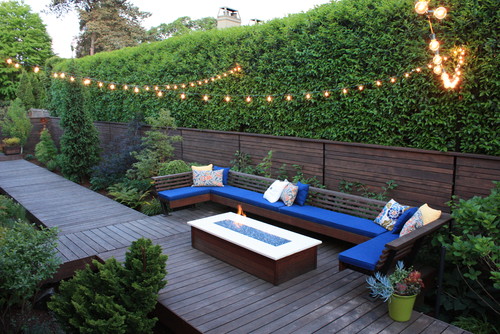 Photo by Fifth Season Landscape Design & Construction
Privacy fences come in many forms, from solid barriers made of wood, vinyl, or composite materials to more decorative and creative designs.
"In general, you can find arched, concave, lattice-top, and traditional looks from most manufacturers," says Kevin Busch, vice president of Mr. Handyman.
"Living barriers, such as those created by trees or shrubs, can be equally as effective but offer a softer look," says Schanen. "They can also be a good workaround to local ordinances with height or location restrictions for traditional fences."
According to Schanen, one of the most popular living barriers is the American arborvitae. It's relatively inexpensive, fast-growing, and easy to find at garden centers. This type of plant has dense, sturdy foliage that stays dark green year-round—including in the winter. It's also tolerant of many different types of soil and flourishes in most growing regions around the country.
How much does it cost to build a privacy fence?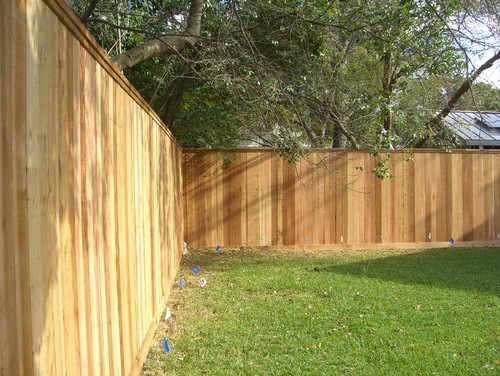 Before installing a privacy fence, you'll want to keep in mind costs for materials and labor.
"Materials and labor can vary greatly depending on the size and style of the fence you're building," says Busch. "The higher and longer your fence is, the more materials and labor cost you'll have. More intricate designs or custom installs will also impact cost."
Building a privacy fence can cost anywhere from $1,500 to $8,000, according to Angi.
But if you opt for a solid material like concrete, you'll likely have to pay more.
Christy Walker, broker and owner at Re/Max Signature in Phoenix, says the most common fencing used in the Phoenix metro area is concrete block. She says a 150-foot cinder block wall can cost $15,000 to $25,000 depending on materials and height.
Richard Fortenberry, who owns Handyman Connection of Woodstock in the Atlanta area, recommends getting at least three estimates from contractors before moving forward with a design.
Fortenberry also recommends checking with your homeowners association regarding whether it has covenants in place for fences, as you might need to get approval on your fence plan prior to installation.
Whichever privacy fence you choose, just know that the fence and the area around it will come with maintenance costs. Your wooden fence will require regular staining or painting, and you might even have to repair panels if anything damages your fence. Living barriers like hedges will require watering and pruning.
Search all RVA homes here: http://www.TheRVAGroup.com/results-map/