Original Article: https://www.naahq.org/news-publications/2019-apartment-housing-outlook?utm_source=Iterable&utm_medium=email&utm_campaign=campaign_924550
As we head into 2020, tailwinds for the apartment industry outnumber headwinds. Annual rent growth increased to 2.6 percent during the third quarter from 2.4 percent the prior year, according to CBRE Research; and most markets are absorbing new supply with relative ease. In fact, CB reported that third quarter absorption was at its highest level since the late 1990s.
A recent National Real Estate Investor survey revealed that 41 percent of investors plan to be net buyers of apartments in 2019, down from last year's 47 percent, but far outnumbering the 14 percent who plan to be net sellers. The most common complaint from rental housing investors of late is the inability to find deals that will deliver returns within their target range. But this certainly hasn't held back transaction volume this year, which was up 8.3 percent year-to-date through October, as reported by Real Capital Analytics.
Signs of softness were beginning to emerge in October monthly data with volumes down on a year-over-year basis. Still, pricing remained in high-growth mode, increasing 8.5 percent and 10 percent for mid-/high-rise properties and garden properties, respectively. RCA's Commercial Property Price Index™ swelled by 9.6 percent for all apartment types versus 6.4 percent for all property sectors.
The national economy continues to impress in indicator after indicator: Consumer spending, corporate profits, business optimism, unemployment rates, job openings and job growth. Through November, average monthly job gains measured 206,000, a vast improvement over 2017's average of 182,000. Job openings were at all-time high in October with 7.1 million positions available, outnumbering the unemployed by more than 1 million.
The most recent outlook survey from the National Association for Business Economics (NABE) revealed overall optimism for 2019 but risks weighted towards the negative. NABE economists were most concerned with trade policy followed by rising interest rates, while stronger wage growth came out on top for upside risks. Survey respondents put the odds of a recession in 2021 or later at 50 percent and 30 percent during the second half of 2020.
Wage growth, as measured by average hourly earnings, broke the 3 percent mark in August for the first time since the recession, and grew 3.1 percent during the past two months. Wages are forecast to remain elevated for the next two years and should handily beat inflation. This bodes well for increased consumer spending on all types of good and services, including housing.
Multifamily housing permits began to show some weakness during the summer and have now experienced three consecutive months of year-over-year declines in the seasonally adjusted annual rate. A number of factors may be contributing to the slowing of permit-filing including higher construction material and labor costs; construction labor constraints; a necessary pause in building some market segments such as luxury apartments, which have experienced a glut of new supply in certain submarkets; and general barriers to construction, whether in the form of regulations, complicated approval processes or community opposition to new construction.
Multifamily housing starts, on the other hand, have experienced increases this year, averaging 6.6 percent year-over-year monthly through October. Forecasts for next year range from 340,000 to 383,000 units. From 2012 to 2017, starts in properties with 5 or more units averaged 348,900 units and are averaging 365,000 in 2018 at a seasonally adjusted annual rate. Given recent declines in permits, starts can be expected to slow next year, providing some relief to the imbalance of the aforementioned overbuilt segments by the second half of 2020.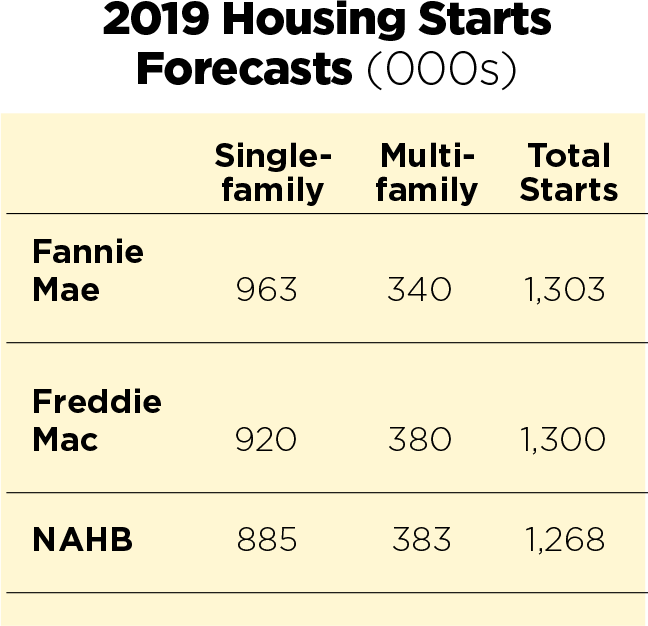 Last month, Freddie Mac reported it expects fewer home sales in 2018, down 1.6 percent from 2017's level. A modest increase of 1 percent is forecast for 2019. The slowing in the for-sale market has been mainly attributed to rising mortgage rates, which hit a 7-year high back in mid-November. Freddie Mac is forecasting a 50-basis point increase in mortgage rates in each of the next two years, reaching 5.6 percent in 2020. Moody's Analytics' forecast is more conservative with rates leveling off at 5 percent through that same time period.
Apartment market forecasts are showing more of the same in 2019, with occupancy rates in the 94 percent to 95 percent range and rent growth averaging in the 2 percent to 3 percent range, although slowing in 2020. Potential headwinds for the industry come in the form of rising interest rates, a constrained labor market, inflationary pressures and additional regulations, which could stymie both new development and rent growth.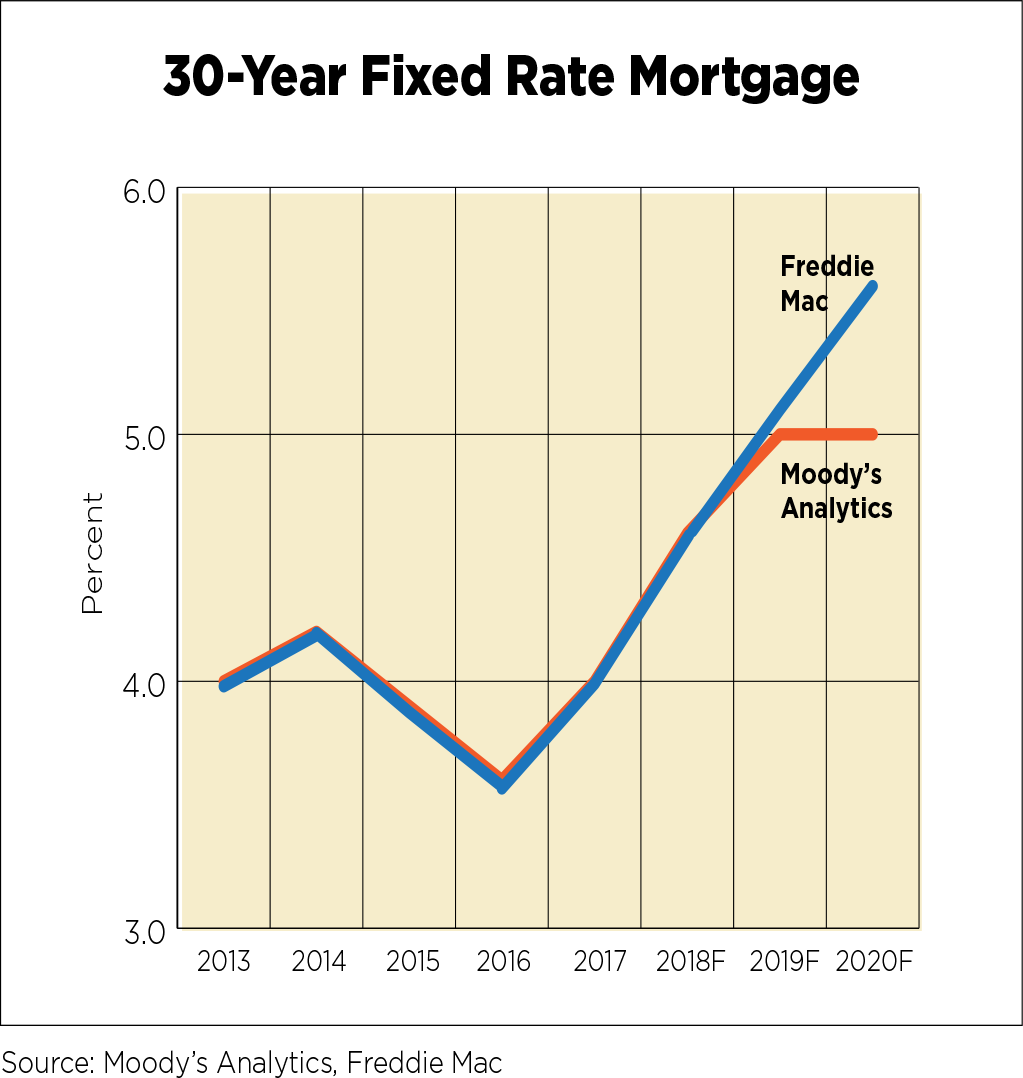 Demographic, economic and behavioral factors will ensure healthy apartment demand in 2019. Despite the homeownership rate ticking up beginning in mid-2016, it has been flat for the past two quarters when adjusted for seasonality and increased only 0.1 percentage points in the quarter before that. Marcus & Millichap estimated the gap between a monthly home payment and apartment rent to be $339 as of the third quarter, its widest level since the recession. Rising mortgage rates, the lack of supply for buyers trying to transition into homeownership and tight credit standards are keeping apartments attractive for many potential first-time homebuyers.
Renting as a lifestyle choice among all age cohorts is also sustaining demand. According to the most recent "Renter Profile Survey" from Freddie Mac, 63 percent of renters are satisfied with their rental experience and 58 percent feel this is a good choice for them right now. The number of renters who expressed having no interest in owning a home has increased gradually during the past three years. Add to that the post-Millennial generation, sometimes referred to as "Gen Z," the oldest of whom will be graduating college and entering the workforce within the next few years, and you have a formula for continued steady growth in the apartment industry.